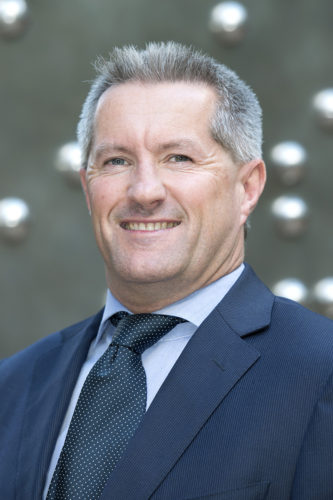 Sean commenced his career with Agip UK in London 1996 and moved to senior roles with Dragon Oil (interim General Counsel) and then with Petro-Canada (Legal Manager North West Europe/Senior Counsel International) until their merger with Suncor in 2009. Thereafter he was a partner and Head of Projects at London law firm Memery Crystal through to 2012. He was noted in the 'Legal 500' for his 'pragmatism, persistence and availability.' Sean returned to New Zealand in 2013 as the Upstream Commercial Manager for Todd Energy, New Zealand's largest domestic oil and gas company giving him visibility across all of New Zealand's major oil and gas producing fields including Maui, Pohokura, Kapuni and the Maui pipeline. He formed SREIL in February 2015.
Sean is a former Chairman of the International Bar Association's UK Energy Lawyer's Group and is the first resident New Zealander to be appointed to the global Board of Directors for the Association of International Petroleum Negotiators. He has a Master's in Petroleum Law and Policy (with distinction) from Dundee's Centre for Energy, Mineral and Petroleum Law and Policy.  In 2019 Sean is studying at Victoria University of Wellington for a Masters in Science majoring in Climate Science and Policy.
Career Summary
2015 – present
Barrister, Sean Rush Energy and Infrastructure Law Limited, Wellington
2013 – 2015
Commercial Manager, Todd Energy, Wellington
2010 – 2012
Partner and Head of Projects, Memery Crystal LLP, London
2009 – 2010
Senior Counsel – International, Petro-Canada, London
2007 – 2009
Senior Counsel, Petro-Canada, Calgary
2001 – 2007
Legal Manager for North West Europe and Corporate Counsel, Petro-Canada, London
1999 – 2001
Solicitor to the Energy and Infrastructure Group, Nabarros, London
1996 – 1999
Legal Counsel, Agip UK, London
1996
Paralegal, Clifford Chance, London
Qualifications
2012
LLM (with distinction), Petroleum Law and Policy Centre for Energy, Mineral & Petroleum Law and Policy, University of Dundee
1998
Admission Law Society of England and Wales
1992
Admission to the High Court of New Zealand
1991
Bachelor of Laws, Victoria University of Wellington
Professional Experience
2015 – present
Barrister, Sean Rush Energy and Infrastructure Law
Sean's consultancy has a broad offering servicing domestic New Zealand renewable energy, gas utilities, international oil and gas companies and petrochemical clients as well as advising the regulator in regard to iwi participation and geothermal.  Throughout 2019, in tandem with his M.Sc in Climate Change Science and Policy, Sean has focused on low emission technology including hydrogen fuel cells and carbon capture and storage.
2013 – 2015
Commercial Manager, Todd Energy
Commercial manager to Todd's Upstream exploration and production group providing advice in respect to the Maui, Pohokura, Maari, Kapuni and Mangahewa/McKee oil and gas fields and asset manager for the Maui pipeline. Specific duties:
Negotiation and acquisition of Todd's $16mm drilling rig.
Led the contracting for ~$300mm worth of drilling services for a 20 well drilling programme.
Adviser to the ~$1bn South Louisiana Methanol project involving gas and CO2 supply, EPC, pipeline transportation and docks and storage use and development.
Assisted Group Legal in several high value litigation matters.
Development and analysis of financial models relating to infrastructure use, field development and acquisitions.
2010 – 2012
Partner, Head of Oil & Gas, Memery Crystal LLP, London UK
Partner providing advice to the UK and international Oil & Gas industry.
Examples
Advised Suncor on the sale of its operated UK assets valued at £240 million.
Advised the UK's Secretary of State in respect to 3rd party infrastructure access for the use of pipelines and facilities.
Member of the Government – Industry think tank, PILOT, tasked with setting the strategic direction for the UK oil and gas industry.
Managed the due diligence process for equity financing for junior resource companies.
Advised Fairfield Energy on the Dunlin field development particularly on the importation of fuel gas from the UK's Northern Leg Gas Pipeline system.
Advised a major oil & gas company in the preparation of legal proceedings against ExxonMobil relating to joint venture rights to transfer.
Advised Seamwell International in its framework agreement with the Chinese government for the development of a coal to gas technology
Advised Shanta Gold with respect to royalty and other financing arrangements for a gold mine in Mozambique.
2001 to 2010
Senior Counsel, Petro-Canada (London/Calgary)
2009 – 2010 London
Senior Counsel International.
Examples
Managed the sale of Petro-Canada's Trinidad gas and LNG business to Centrica for US$380mm
Negotiated a framework agreement with Thailand's PTT for scoping an LNG development and sales to South East Asia
2007 – 2009 Calgary Canada
Senior Counsel seconded to Calgary, Canada and rotated through each of the Oil Sands, Corporate and East Coast Offshore groups.
Examples
Led the Legal/Commercial team to negotiate the arrangements for the East Coast Canada's Hibernia South extension including joint venture unitization, supporting JOAs and facility use agreements.
Advised the Terra Nova Operator for the redetermination of the Terra Nova field, Newfoundland & Labrador.
Concluded a 25 + 25 year capital lease agreement with Enbridge Pipelines for the construction and operation of a US$2.2 billion pipeline with associated tanks,
blending facilities and pumping stations to transport bitumen from the Fort Hills mine to refineries in Edmonton.
Led an in house and external legal team, across 3 jurisdictions, to set up a US$4 billion base shelf prospectus and drawdown of US$1.5billion.
2001 to 2007 London, UK
Legal Manager for Petro-Canada's North West European business unit including 4 offices and a 120,000 bbls/day business.
Examples
Led the negotiations for the $840 million Buzzard field acquisition.
Finalised a Framework Agreement with Gazprom for the joint construction and use of an LNG facility in St Petersburg, Russia.
Key legal/commercial adviser in the acquisition, development and production of the Clapham, Pict, Saxon and De Ruyter fields.
Negotiated the full development suite of agreements for the Shell operated 'Goldeneye' field on the UKCS including UUOA, Gas processing and sale agreements.
Member of the UKOOA legal work group contributing to the development of the UK standard JOA, Decommissioning Security Agreement and pipeline crossing agreement.
Company secretary to Petro-Canada's ~50 international subsidiaries.
1999 – 2001
Solicitor, Nabarros LLP, London
Solicitor to the firm's Energy and Infrastructure Group advising on transport, infrastructure and oil and gas.
Examples
PPP projects in respect to railway franchising and combined heat and power plants
Financing and regulatory advice for the construction and operation of a new bridge and tunnel across the Thames as part of the Thames Gateway Regeneration Project
Adviser to the Association of Electricity Producers.
Interim General Counsel to Dragon Oil PLC (1999-2000)
Concluded a PSC with the Government of Turkmenistan
Concluded a US$60mm project financing facility with the EBRD
Tendered and awarded a full suite of drilling contracts for Dragon's drilling programme in the Turkmen sector of the Caspian
Sold non-core assets in the US and Thailand
1996 – 1999
Legal Adviser, ENI, London
In – house lawyer to ENI's oil, gas and gas marketing UK subsidiary.
Examples
Legal Adviser to ENI's Exploration team including the collation and submission of ENI's successful bids for the 18th and 19th rounds of UK licensing.
Advised on the formation of the ENI gas trading group. Took responsibility for all legal matters relating to gas trading on the UK's National Transmission pipeline system, including Network Code issues, participation in the drafting of BP's "NBP 97" gas trading master agreement and the conclusion of numerous "Beach" Gas Sale Agreements.
Responsible for the Ninian, Columbia, Ann, Audrey and Alison producing fields and related pipelines including resolving capacity issues, interest transfers and redeterminations.
1992 – 1994
Barrister and Solicitor, McKay Hill & Co Solicitors, Napier, New Zealand
Barrister and solicitor involved in commercial litigation relating to insolvency, insurance and employment and a wide range of serious criminal instructions including homicide, fraud and serious assault offences.
Volunteer Activities, Associations and Awards
Director of the Association of Petrolatum Negotiators (current)
Member of the UK Industry – Government steering group 'PILOT' Infrastructure Access Group (2011 – 2012)
Chairman of the UK Energy Lawyers Group (2004)
Director of the Association of International Petroleum Negotiators European Chapter (2010 – 2012)
Editor of the AIPN's periodical Journal for World Energy Law and Business (2007 – 2012)
Editor of the International Bar Association's Journal of Natural Energy and Resources Law (2003 – 2012)
Legal Committee member of Oil and Gas UK (2002 – 2009) and member of the Model JOA and Decommissioning Agreement drafting sub-committee (2005 – 2008)
Member of the International Bar Association's Joint Working Group on the EC Public Consultation concerning offshore safety (2011) (in response to Macondo).